All Categories
Events
Recipients Testimonials
Press Releases
Relief Operations & Appeals
Videos
More Filters
RRT Supports Hamilton Firefighters Bed-Push Charity Event on June 23, 2018
The "bed-push" or "bed-race" is an interesting type of event that charities use to raise funds.  On Saturday June 23, 2018, the Hamilton Professional Fire Fighters Association held a bed-push event at Bayfront Park to raise money for Hamilton Health Sciences Foundation and the HPFFA Charity.  This particular bed-push was quite unique as there were firefighter related obstacles and challenges along the 1.5 km route that circled the park.  Rapid Relief Team members from Hamilton got in on the action, by setting up a tent along the route and handing out bottled water and snacks to participants, other volunteers, and anyone in attendance including the firefighters and their families.
Unfortunately, the weather put a bit of a damper on the event as the cool, cloudy, drizzly day kept many people away from the park, so the attendance wasn't as high as expected.  However, everyone made the most of it, all the teams still proceeded with the bed-push and everyone there had a good time.  Thankfully it never rained very hard, so all the events still went as planned.
The Rapid Relief Team enjoyed handing out bottled water, granola bars and bags of chips to those that wanted them.  The RRT tent was conveniently set up near where each bed-push ended so the RRT volunteers decided to make themselves more useful by bringing cold bottles of water to the finish line after each race and handing them directly to each participant.  The hot, thirsty participants sure appreciated this quick service after pushing a bed at high speed for a kilometer and a half!
Despite the weather it was still a successful day, and everyone involved had a great time.  Much needed funds were raised for healthcare and this event was mostly focusing on supporting the Hamilton General Hospital Foundation, Juravinski Hospital & Cancer Centre Foundation, McMaster Children's Hospital Foundation, and the HPFFA Charity.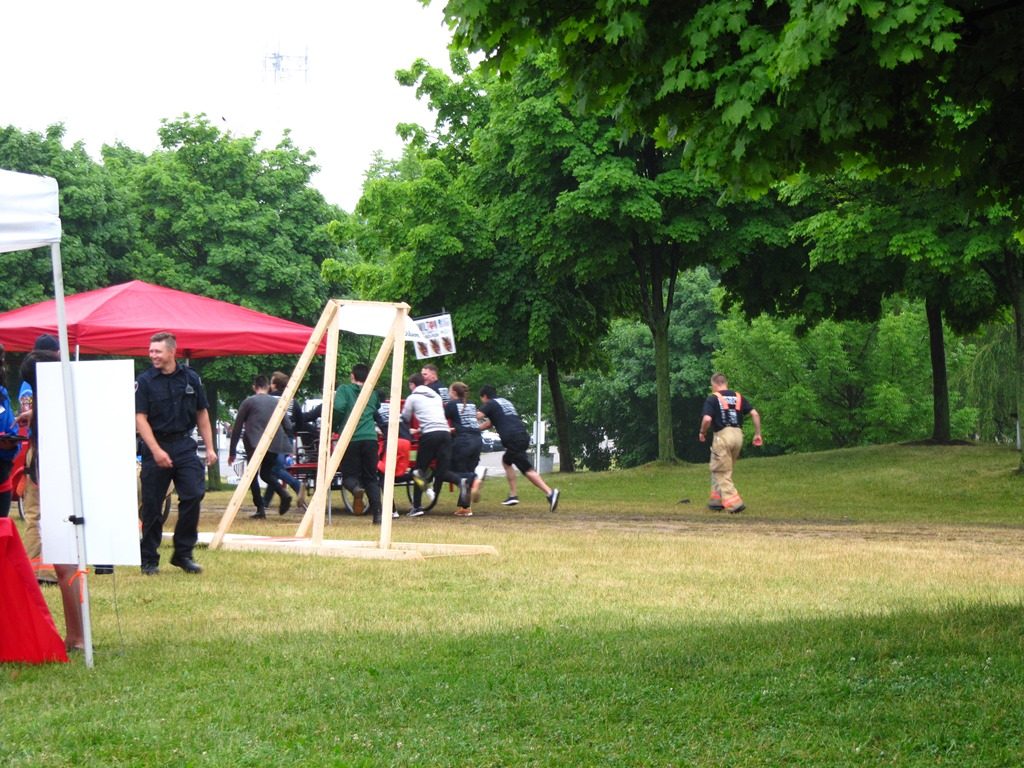 As usual, the RRT members were glad to help-out in any way they could and the firefighters, event organizers and other volunteers certainly appreciated the service of the RRT volunteers.
Watch RRT In Action