UK – RRT Supports Severn Trent Mountain Challenge
On the 11th July, Severn Trent Water ran another successful Mountain Challenge, for the incredible 22nd year, raising over £40k for the charity WaterAid.  Walkers covered distances up to 30 miles, scaling peaks of over 1900ft and some in under 8 hours.  Based in Edale, in the heart of the Peak District, the Mountain Challenge has raised over £500k since 1993, helping the poorest and most marginalised people get access to safe water, sanitation and hygiene.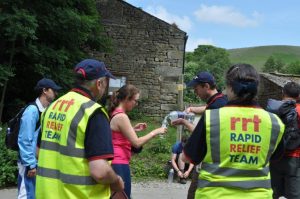 It's hard to believe that even in today's world 650 million people don't have access to safe water, and 1 in 3 people don't even have a proper toilet.  Impressively, 77p out of every pound donated to WaterAid reaches the people with the need, much higher than some other global charities.
As usual, Severn Trent did a great job in organising the event and ensuring everything ran smoothly. Edale Mountain Rescue were also on hand to check everyone had sufficient supplies before embarking, and then were on hand if anyone should get into difficulty.  Participators from corporations that entered the event traveled from as far as the South Coast, Scotland, and Cambridgeshire, and left the event with as much enthusiasm as they started!